See the Entire Versace for H&M Collection, Including Pillows, Furry Vests, Studded Jewelry, and More
There's lots of palm tree prints, hot pink, and gold-tipped lapels.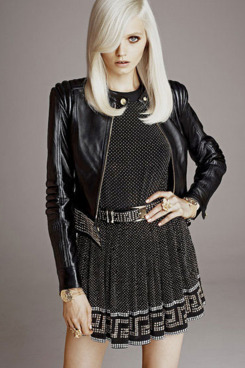 The Versace for H&M press site went live today, airing the entire collection in all of its flashy, gold-studded glory. As you could have guessed from the images released previously, there's lots of hot pink, palm tree patterns, and gold metal detailing. Also, the lagoon crotch print appears on both a dress and a skirt (as well as a purse, a scarf, a pillow, and jacket sleeves). Prices range from $19.95 for costume jewelry to $299 for the studded leather jacket and dress.