Vogue Discusses Rooney Mara's Pierced Nipple
Also: an awkward conversation about her weight loss over dinner.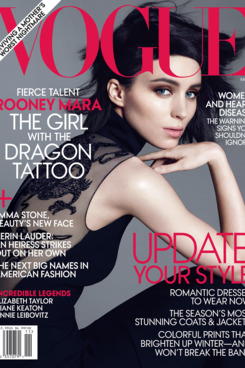 Rooney Mara covers the November issue of Vogue in anticipation of her forthcoming film, The Girl With the Dragon Tattoo, which comes out in December. In lieu of any visible ink, Mara wears a dress with an embroidered dragon pattern for the cover shot; in Jonathan Van Meter's accompanying article, she discusses her breasts, or more specifically, a pierced nipple, which is exposed on one of the film's posters. "There's a certain way people are used to seeing nude women, and that's in a submissive, coy pose, not looking at the camera," Mara tells Vogue. "And in this poster, I'm looking dead into the camera with no expression on my face ... I think it freaks a lot of people out."
Rooney Mara: Playing with Fire [Vogue]