Amy Winehouse's Back to Black Album Cover Outfit to Be Sold at Auction
Proceeds from the sale will benefit the Amy Winehouse Foundation.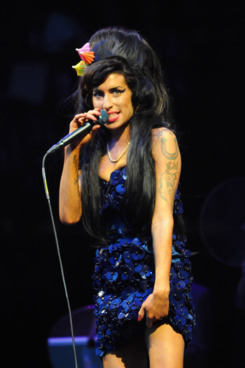 The strapless white dress worn by Amy Winehouse on the European cover of her Back to Black album will be sold at an auction later this month. The dress's designer, Disaya Sorakraikitikul, donated it to the Amy Winehouse Foundation, a charity set up by Amy's parents following her death. It's expected to raise a minimum of $15,000, with proceeds benefiting the foundation's work to help troubled youth. In the days after her passing, Amy's father Mitch gave some of her clothes to fans in mourning outside her London apartment; while this dress will cost considerably more than nothing at all, the money will go to a fitting cause.