Chloë Moretz Looks a Bit Awkward on the Cover of Jalouse
But maybe that's what they're going for.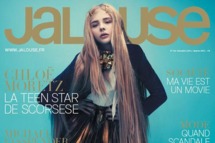 In a stark contrast to her soft, ethereal Love cover, Chloë Moretz gave haute couture posing a try for Jalouse's December/January 2012 issue. Perhaps the magazine was shooting for an awkward look, in which case they succeeded.