Elle's Kyle Anderson Replaces Taylor Tomasi Hill at Marie Claire
And so begins a round of fashion-job musical chairs.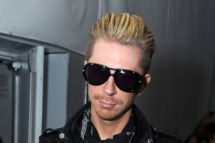 Marie Claire's replacement for Taylor Tomasi Hill, who left last week for a job at Moda Operandi, has already been confirmed. Elle's accessories editor Kyle Anderson will be filling her spot, telling Fashionista that "working for Nina Garcia again and Marie Claire is the ideal fit." (The pair worked together at Elle before Nina moved to Marie Claire back in 2008.) Let's hope his new position's salary is sufficient for his $13k watch-buying habits, which it surely will be.