Filene's Basement Will Auction Off Its Own Name
It's part of the liquidation process.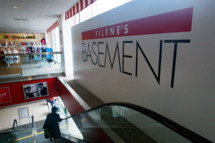 As part of the liquidation of Filene's Basement, which filed for bankruptcy earlier this month, the retailer's intellectual property assets will be auctioned off. Assets include the Filene's Basement trade name, Internet URLs and websites, and the Running of the Brides name. We know, we know: It's just what you wanted for Christmas.
Earlier: Syms, Filene's File for Bankruptcy With Plans to Shutter