Finally, Obama Wore a Fun Shirt
When it comes to prints, he's a natural.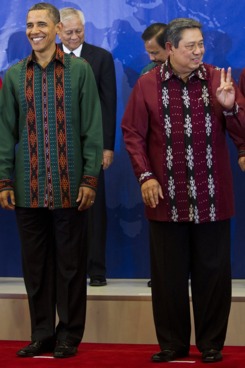 Whoever said President Obama can't work a print is wrong. Wrong! Having rejected a Hawaiian shirt for last week's APEC summit in his home state, he visited Indonesian President Susilo Bambang Yudhoyono in Bali, where he looked to be enjoying the traditional Indonesian shirt he wore for the photo op. Not only did he stand in one spot so everyone could photograph him having fun wearing it, he then wore it to walk around and take in some Indonesian entertainment. He looks so proud of himself, doesn't he? The grin of a man who knows how to embarrass his daughters.