Here's the Tom Ford Collection That Failed to Incite a Standing Ovation
The same one that Virginie Mouzat called "a nightmare."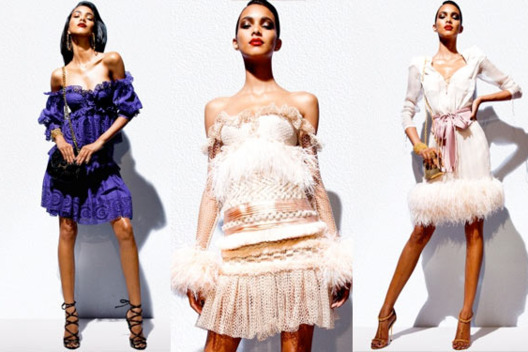 Tom Ford's spring 2012 womenswear collection was not met with the same unbridled elation as his last two. In fact, several critics recounted how Ford awkwardly awaited a standing ovation at the end of the show, only to receive polite claps. (They also described it as "a bit flat" and "resembl[ing] an out-of-style Gucci collection from ten years ago.") As usual, Ford refused to allow his clothes to be photographed at the show, instead waiting for Vogue to shoot them and publish the images several months later, as they did today. Accompanying Vogue.com's slideshow of the collection's 36 looks is an interview with Ford, who explains that he's "streamlined things more this season."
There are plenty of the glamorous dresses — a lovely velvet devoré polka-dot silk stands out — as well as put-together separates like the frothy off-the-shoulder eyelet blouse and flounced skirt Ford calls "milkmaid deluxe" ... There are pants looks, too; a favorite of Ford's—such a signature that he's shot it for his advertising campaign—is a cobalt-violet jacket and form-molding skinny pant: "They're in double-stretch satin, so they hold you like Spanx!"
In other news, he won't do a secret, ultra-private show in February, as he's done for the past three seasons; instead, he'll put on "ten small, personal presentations" during which he'll talk through each look while the model stands next to him (this isn't hugely unusual; Alber Elbaz and Victoria Beckham, to name a few, have done this, too). This arrangement should, at the very least, minimize the likelihood of standing ovation confusion.