Hermès's Defense Plan Against LVMH Is Now in Place
It should be finished by the end of the year.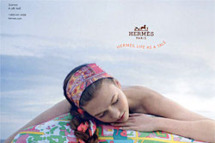 The Hermès family has finally made all the arrangements for a special unlisted holding company where they can squirrel away more than 50 percent of the label's shares. The move is designed to protect the company from an unwanted takeover from LVMH, which has been stealthily buying up shares over the past year and currently owns 21.4 percent of Hermès's capital. WWD reports that the holding company will be officially in place by the end of the year.