Kmart Stores in Australia Sold Girls' Underwear With 'I ♥ Rich Boys' Slogans
Predictably, there was consternation.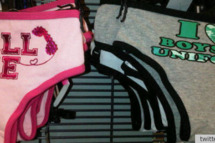 Kmart stores in Australia came under fire recently for their sale of potentially inappropriate girls' underwear. As part of a "Girls Xpress" clothing line marketed to a "female youth market," the undies in question came with slogans like "Call Me," "I ♥ Rich Boys," and, in a camo-style font, "I Heart Boys in Uniform" — which could arguably be seen as patriotic, at least? But after complaints and a Twitter campaign (with its very own hashtag, #kmartsexploitation), the stores have now pulled remaining stock off their shelves.