Kyle Anderson Is Still Spending Lots of Money
Those who have, spend. Those who don't, blog about spending vicariously.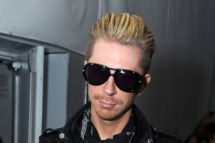 After detailing a weekend's worth of shopping that totaled $13K last week, accessories editor Kyle Anderson continues to do his duty stimulating the economy. This past weekend, his expenses included $7,050 dropped on four pieces at Saks, including a pair of DSquared2 leather trousers. Well, he has a new job now, so that must mean new clothes?