Lady Gaga's Worn a Lot of Solids Lately
And she left her hair down too — positively understated.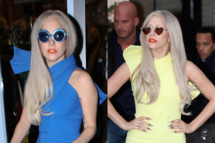 It's difficult to tell whether this is a new "thing" for Gaga because she continues to cycle through trends at warp speed. But color-blocking's featured in three of her looks from the past few days: an all-blue outfit, a lemon yellow one, and a teal and pink dress that, to quote the Daily Mail, came with "a sperm hat."