Adriana Lima Does Not Recommend Her Liquids-Only Diet
Don't try this at home!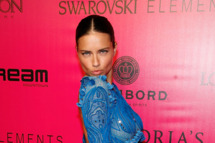 In the run-up to this year's Victoria's Secret Fashion Show, supermodel Adriana Lima detailed a very intense diet and fitness regime. But now she's saying the quotes were "a misunderstanding," and added a message to teens who might take her words as potential thinspiration: "Don't go starving yourself or only drinking liquids. Don't do that please." To prove her point further, she even ate some cake backstage at the show. Needless to say, prep for the V.S. runway represents very special circumstances.