Madonna Gets Into the Groove
She just wants to express herself.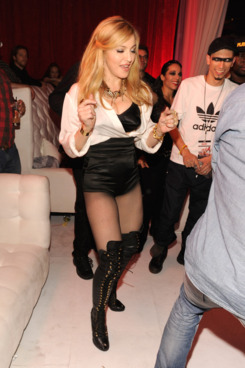 Madonna wore a black bustier and white blouse from Dolce & Gabbana, and Miu Miu boots with fishnets to the Roseland Ballroom in New York City on Saturday night, where she hosted live auditions for a spot on her dance crew as part of the Smirnoff Nightlife Exchange Project.
So even though Madonna looks nowhere near her 53 years of age, does this outfit take her "Over the Borderline" of age-appropriate attire?