Dakota Fanning's Ad for Marc Jacobs Perfume Banned in the U.K.
The ASA says "the ad could be seen to sexualise a child."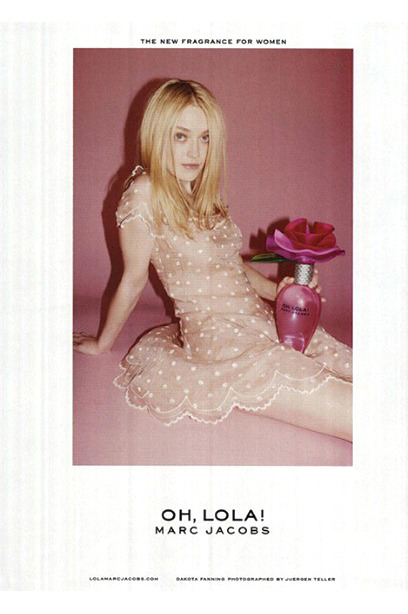 The British Advertising Standards Authority, which regularly cracks down on ads with models deemed overly sexy, skinny, or airbrushed, has banned the ads for Marc Jacobs's new perfume, Oh, Lola!, for portraying 17-year-old Dakota Fanning as too childlike and sexy. They've apparently received complaints about the suggestiveness of Fanning holding the perfume bottle, which is shaped like a blooming pink flower, between her legs. In their statement, the ASA says:
We noted that the model was holding up the perfume bottle which rested in her lap between her legs and we considered that its position was sexually provocative. We understood the model was 17 years old but we considered she looked under the age of 16. We considered that the length of her dress, her leg and position of the perfume bottle drew attention to her sexuality. Because of that, along with her appearance, we considered the ad could be seen to sexualise a child.
Several months ago, Jacobs said outright that the ad and perfume took inspiration from Vladimir Nabokov's character Lolita, a sexualized child. "I knew [Dakota] could be this contemporary Lolita, seductive yet sweet," he said of choosing her for the ads. Coty, who makes Oh, Lola!, defended the ad by saying that it was "provoking, but not indecent," as it doesn't show any "private parts or sexual activity."