Marc Jacobs Was a Character on South Park Last Night
He's shirtless, naturally, and sipping tea.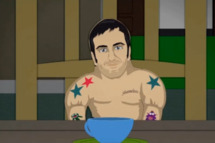 Last night's South Park episode features a guest appearance by a shirtless Marc Jacobs doll, who attends a tea party with Cartman and several other toys. Marc — or, in this case, "Muscle Man Marc," a nickname that should absolutely be adopted for further use — plays an integral part in Cartman's investigation of the whereabouts of his favorite toy, Clyde Frog. Surely not by coincidence, Jacobs has a tattoo of Clyde Frog on his forearm in real life (see photo evidence, as well as a large dog, here).