Michelle Obama Kept Comfy This Thanksgiving Weekend
Sweatshirts, sneakers, and jeans.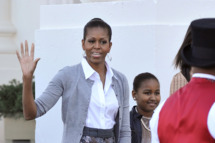 Michelle Obama rang in the holiday season this weekend with appropriately casual outfits: She wore a zip-up sweatshirt to a food bank in Washington, D.C. and a J.Crew sweater and sneakers to a NCAA basketball game in Maryland. She did dress up on Friday to receive the 2011 White House Christmas tree, wearing a smart midi-length print skirt with a cardigan and suede boots. See these complete looks in the Michelle Obama Look Book.