Michelle Obama's Six Weekend Looks Included Cocktail Dresses and a Sonia Rykiel Sweater
The First Lady said "aloha" to some new clothes.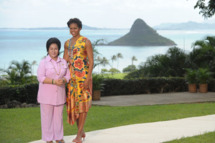 Michelle Obama's wardrobe had a very busy weekend. On Friday morning, she wore a gray lace skirt and matching coat to Arlington National Cemetery in Virginia for a wreath-laying ceremony. Then, on her way to Hawaii, she made a pit stop in San Diego to watch a college basketball game — where she wore a striped Sonia by Sonia Rykiel sweater. By the day's end she'd landed in Honolulu wearing a black-and-white printed dress. So far, her other Hawaiian looks include a black A-line dress worn for a tour of an organic farm, a pink-and-gray off-the-shoulder cocktail dress worn for the Asia Pacific Economic Cooperation summit dinner, and a floral-printed yellow dress to the APEC Spousal Luncheon the following afternoon (pictured). All six of these outfits are newly added to the Michelle Obama Look Book.