Model Loses Contract for Speaking Favorably of Her Romance With Qaddafi's Son
<p>That's heavy.</p>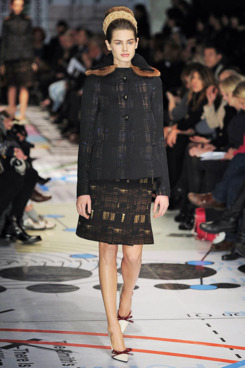 Vanessa Hessler is a model represented by 1ModelManagement in New York. The Italian's success in the industry has been proved by appearances in Armani, Calvin Klein, and L'Oreal commercials, as well as Guess print ads. She even acted opposite Gérard Depardieu in Asterix in 2008. And prior to the Libyan uprisings, she carried on a romance with Colonel Qaddafi's fifth-born son Mutassim for four years, something she called a "very beautiful love story" in an interview that has now cost her what was likely a pretty lucrative contract with German telecommunications company Hansenet GmbH.
British Vogue reports:
"We, France and the United Kingdom, financed the rebels but people don't know what they are doing," Hessler told Italian magazine Diva e Donna. "The Gaddafi family is not how they are being depicted, they are normal people. I didn't have any contact with him since the uprising broke out, but our relationship was one of passion."

Hansenet GmbH said through a spokesperson, "Vanessa Hessler's relationships are private business. However we cannot accept her comments on the Libya conflict." Her image is to be removed from the company's site within 24 hours of this announcement. Hessler, who booked a lot of big jobs last year, does not seem to currently hold any major contracts with fashion brands. It seems logical to assume the scandal will affect her future employment prospects, yet the industry has never been especially wary of hiring controversy-tainted models (see: Kate Moss, Naomi Campbell). But perhaps her comments will be viewed as more egregious than any old drug abuse or cell phone assault accusation.

Captors killed Mutassim the same day as his father.

"A Normal Family" [Vogue UK]