More More More Twilight Premiere Looks
How do you like them?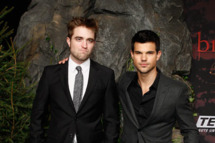 Though in much smaller numbers, vamps and werewolves have been popping up for photo ops at Twilight premieres worldwide. Taylor Lautner and Robert Pattinson have been on a gray suit rotation while touring European showings of the franchise's new installment, whereas Ashley Greene and Nikki Reed lived up to their vampy characters in bright draped gowns in New York last night. See these new looks and more in our growing slideshow of Breaking Dawn's best red carpet moments.