More Breathless Speculation That Kate Middleton Is Pregnant
SHE'S NOT EATING PEANUTS!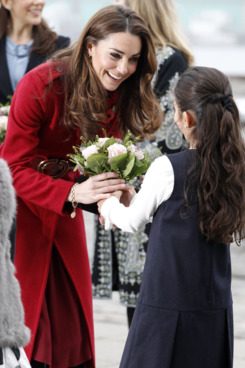 While visiting a UNICEF facility in Denmark earlier this week, Kate Middleton "politely refused" to sample a peanut paste that's sent out in UNICEF's famine aid packages. Us Weekly reports she even gave Prince William "a knowing look" when he offered her the snack. This can only mean ONE THING: Kate's obviously pregnant, because apparently some doctors recommend that pregnant women avoid peanuts to help prevent their babies from getting allergies. (Just to cover all our bases, a palace spokesperson said that Kate isn't allergic to nuts herself, so that's no excuse.) So that's settled. Now, if Kate has a boy, he can date with Babyoncé in a few years.
Kate Middleton Pregnant? Copenhagen Pic Sparks New Rumors [Us]