PETA Convinced Reese Witherspoon Not to Carry Her Snakeskin Handbag
One down, lots of snakeskin fashion items to go.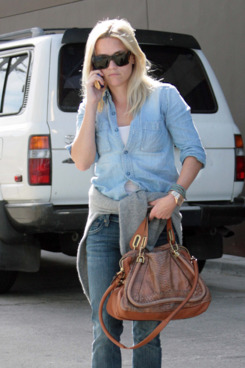 PETA has a lot of work to do if they want to enforce their agenda in a winter where fur and snakeskin are two huge trends. They've just successfully made one high-profile example of Reese Witherspoon, who the organization targeted after she was seen walking around L.A. with a python-skin Chloe bag. When the photos surfaced, they sent her a video narrated by Joaquin Phoenix, whom she acted opposite in Walk the Line, which explains that the skin on her bag is obtained by nailing a snake's head to a tree, skinning it alive, and then leaving it to languish for sometimes days before dying. From PETA's blog:
Reese said that she was grateful for the information we had sent her, and we were so appreciative that she bagged the bag that we sent her flowers as a thank-you. It's good timing, too: Her upcoming movie This Means War co-stars Laura Vandervoort, who just shot a naked exotic-skins ad for PETA, so now those two can slink down the red carpet together rocking mock croc and fake snake.