Milliner Stephen Jones Says Princess Beatrice's Wedding Hat Was 'Too Extravagant'
Just a little too extravagant that is, but therein lay its brilliance.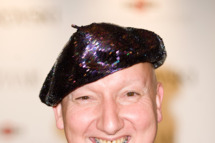 Stephen Jones on the infamous Philip Treacy hats: "I mean, they [Beatrice and Eugenie] are young girls and they looked like they were having a great time. I have to say, they were a little too extravagant for the occasion. Because really, it was for Kate to shine on an occasion like that, but I respect the fact that they really went for it, whether you like it or not. Beatrice should have worn something more discrete. You shouldn't want to tread on the bride's toes or wear a hat that's too crazy. At the same time, if you do like crazy hats, you don't want to let everybody down. So it has to be finely tuned."