Rich Tong Is Reportedly Leaving Tumblr
According to sources within the company.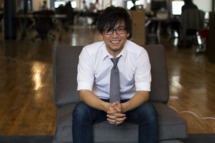 Beta Beat reported yesterday evening that Tumblr's fashion director, Rich Tong, "is on his way out of the company." Tong has apparently not worked from Tumblr's offices for most of the past three weeks now — and is said to have sent an e-mail to friends confirming his exit.
Most Likely Related: Tumblr Wants Brands to Pay for Coverage During Fashion Week