Salma Hayek: Businesswoman or Beachgoer?
She combined a pantsuit with a halter top.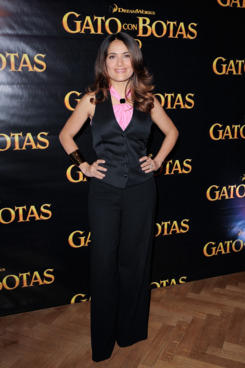 Salma Hayek wore a black vest over a pink halter top with black wide-legged pants to a photo call for Puss In Boots in Buenos Aires, Argentina today. She added a large metallic cuff.
Would this look improve with a different shirt under the vest, or does the pink add a nice touch of whimsy to the outfit?