See Looks From Breaking Dawn's London Premiere
All three of them, that is.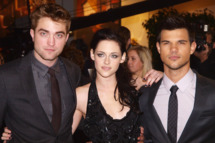 After Monday night's L.A. premiere, only three of the primary Twilight cast managed the long flight from the West Coast to London — and they looked a little jet-lagged. See Kristen Stewart's black Cavalli gown, and a pair of gray suits on Robert Pattinson and Taylor Lautner, respectively (though it's more difficult to play the Team Edward/Team Jacob game when they're dressed nearly the same), in our updated slideshow of the cast's red carpet looks.