Lord & Taylor's Holiday Window Displays Are Full of Tiny Moving People
They're almost ... alive.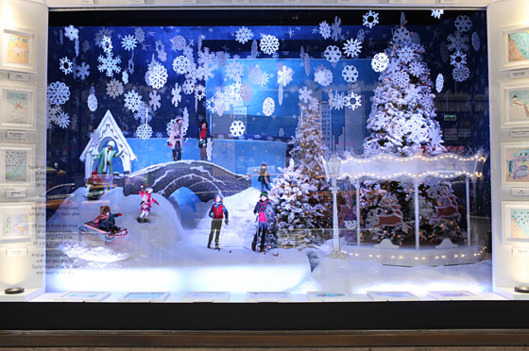 It's that time of year again! Stores are putting up their holiday window displays, which are always such fun to look at until you get thwacked in the chest with a tourist's backpack and then tripped by someone's shopping bag. So instead, you can enjoy our annual holiday window slideshow from the safety of your cubicle. First up, we have Lord & Taylor, who got kids from local schools and shelters to make drawings for their annual theme, "What is Christmas made of?" Dozens of the drawings were then chosen to inspire winter scenes in the store's five windows, all of which are outfitted with moving mechanical figures that do things like ice skate, build a snowman, and trim a Christmas tree. To give all the young visionaries their due, Lord & Taylor also framed and hung up a bunch of the kids' drawings, too. See the scenes in our slideshow.
BEGIN SLIDESHOW