Jessica Simpson Knows What She'll Wear While Giving Birth
Here's a hint: It's not really <em>sensible</em> delivery attire.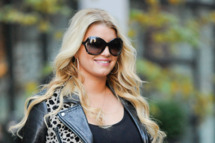 Jessica told Us,"I'm probably going to deliver my baby in these [4-inch YSL heels] ... I went to the doctor yesterday and he said, 'You're gonna need to get out of those heels,' I was like, 'Excuse me! I'll be delivering in these!'" Okay, but does she have a handbag to match?