The Victoria's Secret Fashion Show in Photos: Kanye and Jay-Z, Adam Levine and Anne V., and Kite Parts Masquerading As Clothing
Also, the audience full of suits who get to watch it all live.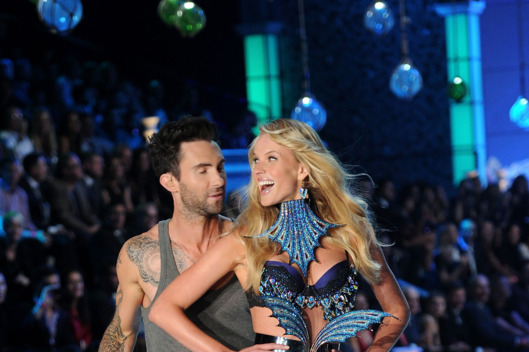 You won't get to watch the Victoria's Secret Fashion Show on TV until November 29, but the show taped last night in front of 1,100 celebrities, reporters, select friends of CBS, and guests of the models in the show. Mostly, however, the crowd consisted of men in suits, which is an odd atmosphere for anyone who's gone to a number of regular fashion shows, because those conspicuously lack a straight-male contingent. Backstage earlier in the day, Victoria's Secret president Ed Razek told a reporter that the audience includes "a lot of people in the financial sector," and according to The Wall Street Journal's Elizabeth Holmes, parent company Limited Brands gives tickets to analysts who cover Victoria's Secret, probably to encourage them to rate the stock favorably. As Razek said last night, the $13 million spent on the show is "an investment." Certainly, no matter how you feel about how the show objectifies the models, what happens on the runway is a glittery, celebrity-filled spectacle that's hard to ignore. See highlights in the slideshow.
BEGIN SLIDESHOW