One Sweater-vest + Five Stores = Five Layered Fall Looks
See how five NYC boutiques styled a men's sweater-vest.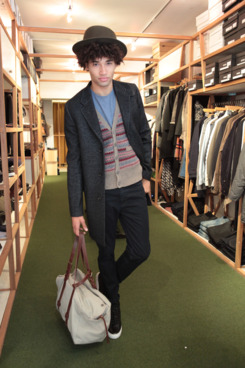 As temperatures start to drop, big sweaters that look like they're borrowed from the closets of Bill Cosby and Mr. Rogers become more and more enticing. One way to combat the cold without all the bulk is to layer, using lightweight and streamlined pieces like a grandpa-style sweater-vest. In this edition of "Take Five," Major model Tommie Cross brought a Gant Rugger Fair Isle sweater-vest to five New York City boutiques, where staff members styled it with the store's offerings. See the looks at Gargyle, Atrium, In God We Trust, Unis, and Stock Vintage put together in our slideshow.