Terry Richardson Had a Party With 'Extremely Muscular Male Strippers'
As you might imagine, things got out of hand.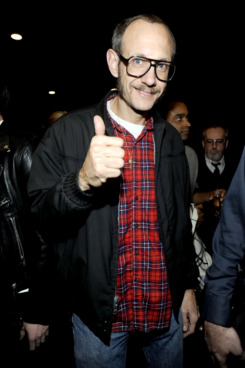 After the opening of Terry Richardson's photography show at Half Gallery on Friday, guests retired to the Westway "to shimmy and gawk at a pair of extremely muscular male strippers wearing what appeared to be fringed dance belts," reports WWD. (According to Terry's Diary, it appears there were actually three dancers — Silk, Flava, and Messiah— whose ensembles more closely resemble furry codpieces.) WWD continues, "One hoisted an enthused female reveler up from the dance floor onto his hefty frame," neglecting to mention that said female was evidently not wearing underwear. Also, this happened.