A Model Rides a Yak, Dressed As a Yak, in the New British Vogue
If only we'd seen this before Halloween.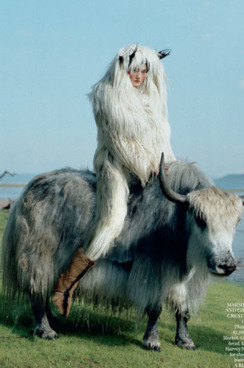 It's a page from a new Tim Walker–shot editorial in the magazine's December issue. Editor Alexandra Shulman even liked it enough to debut the phrase "yak chic" in her editor's letter. Posing stoically, neither the model nor the yak look particularly comfortable — likely because the chunky fur coat alone costs five figures, and the furry pants are made-to-order. Though with today being the day after Halloween, replicas of Max's costume from Where The Wild Things Are must be on sale somewhere should you fancy a similar look for yourself at a more reasonable price point. But where to buy a yak?
The Vogue Digest: Yak chic? [Guardian UK]