Victoria Beckham Wore Leather Leg Warmers
That had stirrups.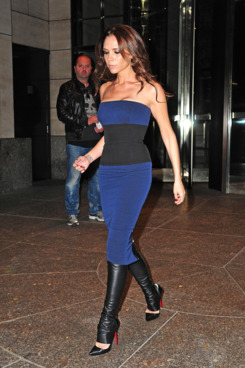 Victoria Beckham wore a look straight off her own runway to the WWD Apparel & Retail CEO Summit in New York last night. The outfit featured leather legwarmers that clip over shoes — in this case, they were Christian Louboutin heels — and minimal jewelry.
How do you feel about the leather stirrups? Would the outfit have looked better without them?