Vivienne Westwood Put Some 'Hollow' Chinese Propaganda on a Dress
Katy Perry recently wore it to the AMAs.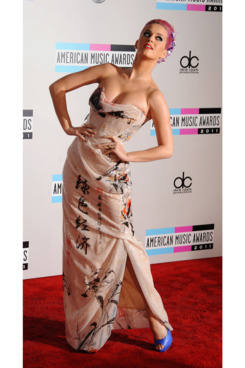 Vivienne Westwood included slogans she described as "traditional Chinese wisdom" on prints from her spring 2012 collection. One look, recently worn by Katy Perry to the AMAs, features characters that translate to "green economy" — calligraphy the designer said a Chinese official kindly wrote out for her at a United Nations summit. The ecofriendly phrase is a mantra commonly employed by Chinese politicians, and seemingly a fitting manifesto for Westwood, a longtime campaigner for increased environmental consciousness. Unfortunately, its accepted meaning in China is somewhat more nuanced and irony-tinged: "Green economy" proclamations are widely considered "hollow jargon" and baseless propaganda by regular Chinese folk. Many have commented wryly online since photos of Katy Perry's outfit reached the country's social networking sites. "Every time I see this kind of thing, I wonder if the English words on our clothes look similarly embarrassing to Europeans and Americans," wrote one user.