André Leon Talley Gives Tips for Penny-Pinching
"Why spend money on movies when you can spend it on gas? Or dry cleaning?"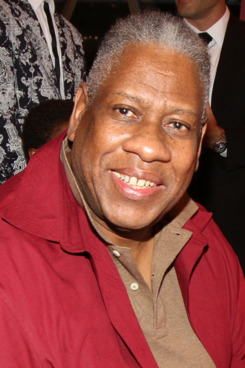 Of all people, André Leon Talley doesn't seem like one to give advice on frugality, but he admitted to us that he's been watching his budget lately. "You have to find a way to pinch!" he told us at a lunch at Desmond's on Friday to honor The Help and its awards contenders Viola Davis and Octavia Spencer. He might love movies, for example, but that doesn't mean he'll pay for them. "I'm not going to go to the local theater to spend $12 ... when I can get a screening copy of a film," Talley told us. "I don't get screeners myself, but I can borrow from my friends or go to their house to watch." For example, he spent this past Thanksgiving at Whoopi Goldberg's home in New Jersey, where she has a screening room. "Right after dinner on Thanksgiving night, we watched The First Grader. Have you heard of that one? We screened that with its producers, and then we watched a documentary that's coming out called The Contradictions of Fair Hope. Do you know Epatha [Merkerson], from Law & Order? She's the producer. It's about the historical benevolent societies of the South," he explained. "It's a brilliant, brilliant documentary." Lesson learned: Don't pay money for something you can get for free, and instead use the money you save for something more important. As Talley said, "Why spend money on movies when you can spend it on gas? Or dry cleaning? Or groceries?"