The Beckhams Have Christmas Card Drama
Well someone's gotta make the bloggers earn their keep during this slow news week.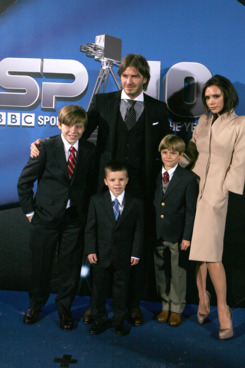 Apparently the Beckhams sent Christmas cards out to a bunch of magazine and newspaper editors, which makes sense seeing as they have fashion and fragrance businesses that need press. And what better way to butter them up than with photos of your four famous children in bed?
The card shows the couple's children — Brooklyn, 12, Romeo, 9, and Cruz, 5, tucked into bed without shirts on. They hold baby Harper, also tucked under the blanket. Cruz Beckham has antlers and a Rudolph nose painted on him and text across the bottom of the image reads, "Twas the night before Christmas."
According to Jane Keltner De Valle from Teen Vogue, who tweeted the card, the photo credit read "Picture by Daddy." Apparently the Beckhams asked people who had posted it to take it down, and many complied, like British Glamour editor Jo Elvin, who explained to readers, "I should point out, the Christmas card from the Beckhams is NOT for publication. It was private. My bad. Sorry, got swept up in adorableness." Beats getting swept up in the slowest of the pre-Christmas news slump.