Best Bet: Totem Pole Earrings
Black leather and fourteen-karat gold deliver glamour with an edge.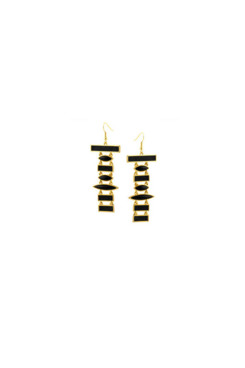 Dangly earrings don't have to be spangled in crystals and beads to make a statement. After seeing so many similar versions — high and low — rhinestone-studded chandelier earrings rarely warrant a second look. These Totem Pole earrings by House of Harlow are striking without being sparkly, contrasting fourteen-karat gold with soft black leather. The effect is glamorous, but with a slight edge over pearls or crystals.
Totem Pole leather earrings, $80 online.