Diane Von Furstenberg on Finding 'Her Prince'; A Review of Tel Aviv's First Fashion Week
Plus, Heather Marks on the cover of Turkish <em>Harper's Bazaar</em>.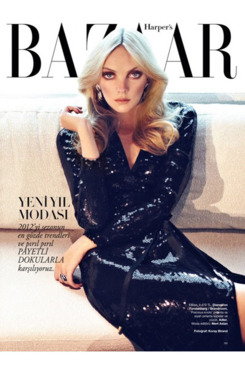 • In Beijing on a book tour, Diane Von Furstenberg offered advice to Chinese women. "I met my prince, and I married him, but that was not enough," she said. "I had to be responsible for my own life." [WSJ]
• Lucky's online fashion editor Ray Siegel went to Tel Aviv's fashion week. Her* review of the shows, and his spare time in the city, includes this piece of advice: "Never give your phone number to a persistent Israeli man named Avi." [Lucky]
• Heather Marks covers Harper's Bazaar Turkey. [Design Scene]
• Despite high Black Friday sales, November remained a slow month for retailers, leading to sales-related concerns for the holiday season as a whole. [WWD]
• A new policy gives foreign retailers in India complete ownership (for single brands) and 50 percent ownership for multi-brands (like Wal-Mart). The move is expected to bring many new, Western brands into the Indian market. [CNBC]
• Under Armour designed a "high-impact" sports bra — the Armour Bra. [WWD]
• See photos from an exhibition of British fashion and runway photographer Chris Moore's work. [Telegraph UK]
• Elite Model Management picked China to host its 28th Elite Model Look World Final competition on December 6. Currently, 70 aspiring models are in Shanghai for a special boot camp before the main event. [WWD]
• Although designer Charles Nolan died of cancer in January, his store in the meatpacking district remains open at his wishes, and now serves as a co-op for students and up-and-coming designers to sell their work. [NYT]
• The Calvin Klein and Tommy Hilfiger brands are carrying PVH Corp. financially. [WWD]
• In other Tommy Hilfiger news, the designer opened a new flagship store in London. [Telegraph UK]
• Paul Frank designed a special wrapper for Nestlé's Crunch candy bars. [WWD]
*This post has been corrected to reflect that Ray Siegel is a lady.