Garance Doré Is a Pretty Good Dancer
As you can see in her Petit Bateau video.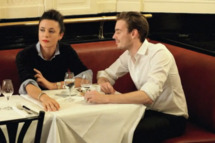 Garance Doré's promotional video for t-shirt label Petit Bateau has her doing the Madison — which entails lots of cute hopping and twirling, sort of like the kind of dancing you were supposed to do at your company Christmas party — with two other French gents. You can see it here.