Italian Vogue Removed This Karlie Kloss Image From Their Website
For no discernible reason, so let's make one up!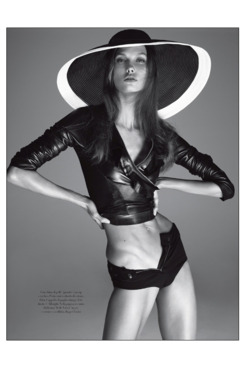 Italian Vogue's Karlie Kloss editorial — her first nude shoot ever — has prompted a variety of responses, most of which fall into one of two camps: 1) Good lawd, feed that poor child! or 2) People who look that great naked shouldn't be allowed to wear clothes! Or other variations thereof. One thing we do know for sure is that her abs and butt actually do look like that because Italian Vogue put a behind-the-scenes video of the shoot on their website. However, they later took down one of the photos (the one that's shown here) with no explanation. Several blogs have speculated that the image was removed because of complaints that it was overly Photoshopped, but again, if you watch the video, it seems like her body really does look like that. So, why do you think they took down the picture? Internet problems? A sudden revelation that a wide-brimmed sun hat is a terribly silly thing to wear with a cropped leather jacket? Or maybe because they realized that — how embarrassing — Karlie's fly is open.