Five Copies of Kate Middleton's Engagement Dress Were Rereleased Today
They've been online for over five hours now, and some are apparently still available.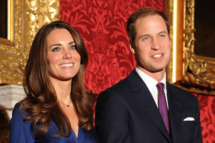 British fashion label Issa today re-issued five copies of the blue sash dress Kate Middleton famously wore for the official announcement of her engagement to Prince William. As part of Online Fashion Week in the United Kingdom, the dresses debuted on high-end department store Selfridges's website at 12:15 p.m. British time today. Over five hours later, only one appears to have sold — with dresses in UK sizes 8, 12, 14, and 16 still available for £475 (about $744), what could you possibly be waiting for?