Kate Middleton Visited a Homeless Youth Center in a Ralph Lauren Knit
She belted the jersey dress to highlight a clearly NOT pregnant waistline.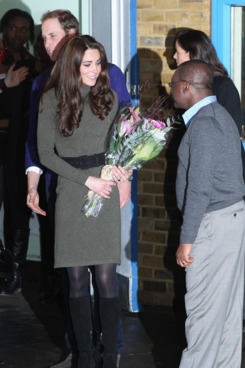 Kate Middleton visited a Centrepoint facility for homeless youth in Camberwell, South London, today with Prince William, a patron of the charity. She wore an olive-green turtleneck sweaterdress from Ralph Lauren's Blue Label line, and a pair of knee-high black boots. During their visit, Wills and Kate made low-fat mince pies and gingerbread cookies with the young 'uns at the shelter — and Kate made a special heart-shaped cookie covered in sprinkles for a fellow chef celebrating a birthday. Speaking to the press afterwards, the birthday girl said she'd never eat Kate's special cookie gift, leaving the Daily Mail wide open to make a joke about how Kate wouldn't eat any cookies either. See her full wintry look in our Kate Middleton Look Book.