New Nudes: Miranda Kerr
This time, for <em>Industrie</em> magazine.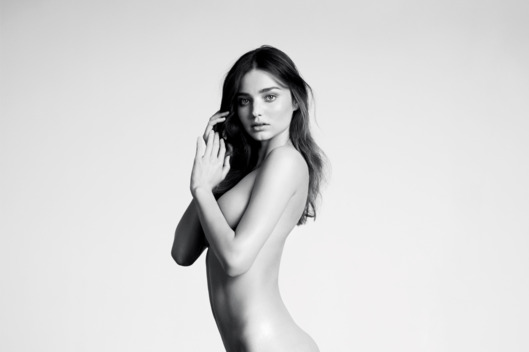 Miranda Kerr has said she's comfortable being nude or nearly so in front of the camera, as you might expect any woman with her figure who's made a fortune modeling lingerie to be. Even though she's done quite a few shoots with few or no clothes, they seem to only become more newsworthy by the day — shall we blame the bikini body–obsessed Daily Mail or the pre-holiday fashion news slump? Both? The latest images of her are tasteful nudes shot by Willy Vanderperre for the new issue of Industrie magazine to accompany an interview with her by Lee Carter. "Thanks to an omnipresent wall of paparazzi, meeting up with Miranda Kerr takes a fair amount of sleuthing," the intro states. "This interview required a last-minute location change, followed by furtive phone calls with her minders and a mad dash to another posh hotel on New York's Upper East Side. Once inside the cocoon, however, the real Miranda Kerr couldn't further [sic] from the image of a callow, helpless model. Of course she's [sic] isn't just a model — or even a supermodel — but a reigning Victoria's Secret Angel."