Nina Garcia Discusses Angelina Jolie's New Marie Claire Cover
"She's on time, opinionated, she knows what she likes."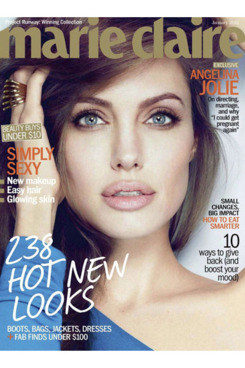 At last night's New York premiere of Angelina Jolie's directorial debut, In the Land of Blood & Honey, Nina Garcia discussed working with the actress for the new Marie Claire cover. Unlike many of the magazine's cover subjects, Jolie apparently arrived at the shoot right on time. "She is the utter professional," Garcia told us. "[She's] opinionated, she knows what she likes and what she doesn't like." And what exactly was that? "Very simple and classic shapes." Nearby, Marie Claire's Joanna Coles explained the difference between "the real Angelina" and "the Angelina that lives in the mind of the tabloids," the latter of which is just a bunch of lies. "Over the past five years I've come to know her a little bit, and occasionally we chat on the phone," Coles explained. "She's always hiring professors to talk to her about things, [which isn't] that surprising if you know her, but if you're only following her through the dreadful narrative in the tabloids, then it is. But I don't think that narrative is true."