Olivia Palermo Says Holiday Nails Are Red; Sephora Will Open a Dozen Stores in Latin America
Also, here's some smoky red eye shadow.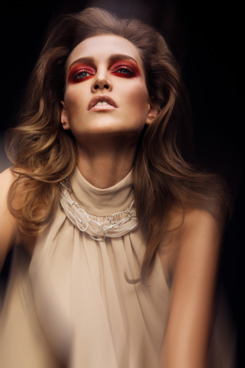 MAKEUP
• For holiday makeup, Olivia Palermo recommends the following: "red nails (she loves Topshop in Lacquered), a sleek ponytail and either a smoky eye or bold lips (her go-to shade is Topshop Make Up Lipstick in Mischief)." [Us]
• Eva Herzigova has matte skin and bright lipstick for S Moda, photographed by Alan Gelati.
• Red eye shadow under your eyes is apparently one way to cover up dark circles, via Papercut magazine. [Design Scene]
• Sephora will open ten to twelve stores in Latin America by 2013, with hopes to capitalize on the region's fast-growing beauty market. [WWD]
COSMETIC SURGERY
• In light of the French plastic surgeon who gave thousands of women dangerous breast implants, the Venezuelan government has offered to take out said implants for free. [HuffPo]
SKIN
• Here's an update on the crusade against animal-tested products. [NYT]
FRAGRANCE
• A new study claims that there may be a link between your genetic makeup and the type of perfume you choose to wear. [Beauty High]