Scenes From Rihanna's New Music Video Look Rather Like a Sølve Sundsbø Editorial
See if you can<em> spot</em> the difference.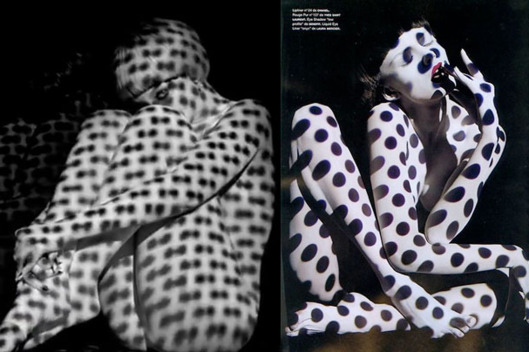 It seems to be maybe the slouchy leather overalls aren't the most exciting thing about Rihanna's new "You Da One" video, after all. As has been widely noted since its release late last week, there are a lot of similarities between the video's shadow-playing and the work of prolific fashion photographer Sølve Sundsbø. Fashin users first caught the video's overlap, both in terms of composition and styling, with a particular 2008 editorial Sundsbø shot for Numéro; it'd be tough to argue "You Da One" hasn't "borrowed" heavily from the spread. Not to mention, there's that all-too-recently settled suit brought by David LaChapelle after he alleged Rihanna (and/or her creative team) had drawn too much from his work in her "S&M" video.
Clearly it's difficult to come up with ideas as original as vomiting rainbow ribbons on a frequent basis, but the clear comparisons — and that LaChapelle precedent — suggest Rihanna's team may not be filtering their fashion inspirations quite enough.