Coveted Sponsored Show Slots at London Fashion Week Will Go to the Same Designers Who Got Them Last Season
This seems curious for London, which is known for unearthing new talent through these kinds of programs.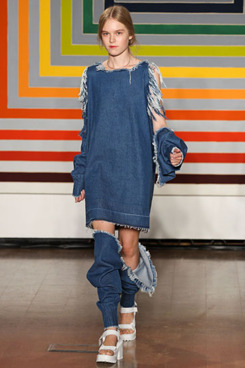 In addition to shows sponsored by the British Fashion Council and Topshop under the prestigious NEWGEN program, London Fashion Week highlights three upcoming designers who get to put on shows sponsored by Fashion East. The likewise prestigious program has helped many British designers, often those even lesser known (at the time) than the NEWGEN folks, gain recognition. In previous years, they've included Richard Nicoll, Gareth Pugh, Roksanda Ilincic, and Henry Holland of House of Holland.
The designers showing fall 2012 collections with Fashion East's coveted backing were just announced: Marques Almeida, James Long, and Maarten van der Horst. However, they're the same three folks who presented spring 2012 collections at London Fashion Week in September under Fashion East. It's perhaps slightly unusual news, given London's current (and deserved) reputation for fresh talent, but panel member and the BFC's ambassador for young talent Sarah Mower says it's because Almeida, Long, and van der Horst's work proved so successful the first time around: "[all three] excelled so remarkably that all their Spring collections have already been picked up by stores ... So having them back to show together again for Fall 2012 will give buyers and journalists a second chance to spectate as these contenders take off."