Andrej Pejic Is Now Selling T-Shirts
With his face on them.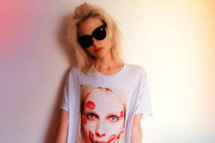 Andrej Pejic is selling a one-size-fits-all T-shirt with his face on it via John Paul Pietrus Photography. The shirt features a Peitrus-shot image of Pejic covered in lipstick kisses and is retailing for $38. He "hopes you enjoy his face on your body."