The Fug Girls: Best and Worst Dressed at the SAG Awards
Who won the "Best Cleavage," "Worst Poncho," and first-ever "Oh My God, Is That a Jumpsuit?" awards? See how Emma Stone, Angelina Jolie, and Rose Byrne stack up.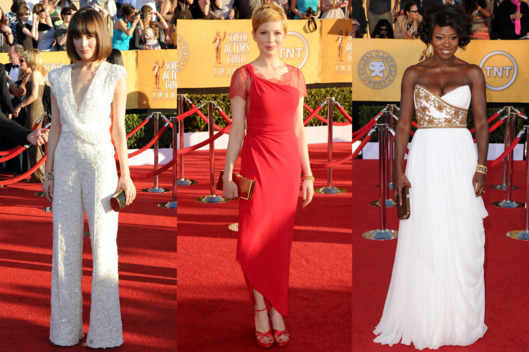 The Screen Actors Guild Awards are — not to be uncharitable — basically an interim awards show: a handy way to pass the time before the Academy Awards, while conveniently keeping the actors contained and happy (God knows we can't have one of them going rogue because of the lack of attention in the middle of awards season). Unfortunately, it felt like a placeholder in terms of the red carpet as well, as if everyone is withholding their stunning best and crazy worst for Oscar night. Still, thankfully, it eked out just enough hits and misses to get us all riled up in slideshow format. (For a complete slideshow of all the looks, go here.) Spoiler: Kristen Wiig may never wear a choker again. For more Fug Girls, go here.
BEGIN SLIDESHOW