Best Bet: Lisa B Socks
The perfect combination of Italian wool, cashmere, and angora yarns, these socks are an antidote to January drear.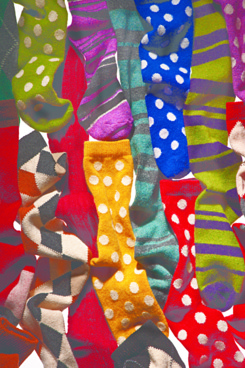 Any attempt to ward off the January chill with a makeshift body armor of fleece and down is a futile one if your feet are left without the right base layer. These cozy and colorful Lisa B socks ($22 to $32 at Old Hollywood, 99 Franklin St., nr. Milton St., Greenpoint; 718-389-0837) are made from a blend of Italian wool, cashmere, and angora yarns, earning high marks on the warming scale and proving breathable, too. They're machine-washable, come in dozens of optimistic prints, from polka dots to argyle, and hit at that ideal upper-calf spot for maximal coverage. Pull on a pair under your Wellies, or, if you're feeling bold, let them peek out beneath your trouser hem. Plus, a design-savvy magazine rack, a new bookstore for Francophiles, and more in this week's issue.